Attitude Determination System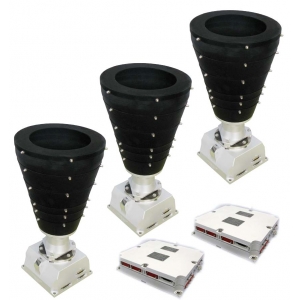 ATIITUDE DETERMINATION SYSTEM COMPONENTS:
Control and syncronization unit (CSU), pcs.
Star tracker (ST), pcs.
1 or 2
2 to 4
ONBOARD UNIT PLACEMENT REQUIREMENTS
Star trackers shoud be mounted on a thermally-stabilized common framework.
ST to CSU maximal cable length - 3 meters.
The Sun should be off the FOV of minimum two STs in any operation mode orientation.
Specifications
| | |
| --- | --- |
| Number of star trackers | 3 |
| Number of control and syncronization units | 2 |
| 3-axis attitude determination error, arcsec | 1 |
| Data lag, ms, max | 100 |
| Angular speed measurement error, arcsec | 1 |
| Minimal angular distance between Sun and star tracker LOS, º | 30 |