SF-15 Soil Thermometer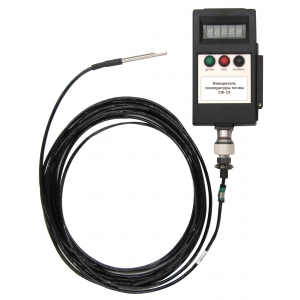 CAPABILITIES
Soil temperature measurement at depths up to 4 cm, foragricultural purposes and on meteorological network observation sites.
The instrument is capable to process and store data from up to 10 temperature probes.
COMPLETE SET
panel (with 1.5V АА batteries - 4 pcs.);
temperature probe (up to 10 units);
software;
RS232 cable;
case.
CERTIFICATE
№ 11216 issued by the State Committee for Standardization of the Republic of Belarus.
Specifications
Soil temperature range, °C
-30 ...+30
Permissible absolute soil temperature error, °C
± 0,5
Power source - internal, V
4,5 ÷ 6,6
Current consumption, mА , max
250
Overall dimensions, mm, max:
- temperature probe
- panel

Ø 32 × 3150
107,5 × 198 × 44
Weight, kg, max:
- temperature probe
- panel

0,3
0,5
Operation environment absolute pressure, hPa
840 ÷ 1113
Operation environment ambient temperature, °C
-30 ...+30