PELENG VK-05 Sunshine Duration Sensor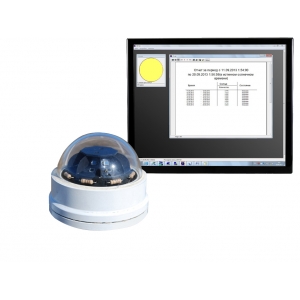 CAPABILITIES
Sunshine duration measurement with 120 W/m2 threshold level for direct solar radiation.
COMPLETE SET
sunshine duration sensor with cover;
special wrench;
installation kit;
software;
PC (optional).
CERTIFICATE
№ 11841 issued by the State Committee for Standardization of the Republic of Belarus;
№ 30656 isssued by Federal Agency on Technical Regulation and Metrology (Russian Federation).
Specifications
Irradiance threshold level, W/m2
120
Permissible main relative error of threshold level, %
± 10
Ambient temperature induced permissible additional threshold level error, for (20 ± 10)°С temperature deviation, %
± 10
Sunshine duration measurement intervals
60 min; 24h.
Permissible relative sunshine duration error, %
± 2
Power supply voltage (50 Hz), V:
24,0 ± 2,4
Power consumption, W, max
7
Interface
RS-485
Overall dimensions, mm, max
Ø 100 × 107
Weight, kg, max
1
Operation environment:
- ambient temperature, °C
- relative air humidity at +25°C, %

-50 ...+50
98