SD-02-2006 Ceilometer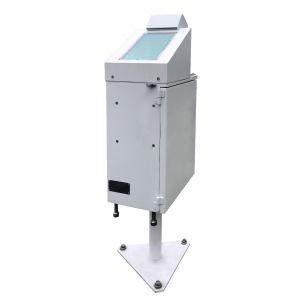 CAPABILITIES
Continuous measurement of cloud-base height at airports and meteorological network observation sites.
Operation principle is based on atmospheric backscatter measurement.
COMPLETE SET
optoelectronic unit;
PC workstation (optional);
uninterruptible power source (optional);
modem (optional);
software;
installation kit;
spare parts and instruments set.
CERTIFICATES
№ 11058 issued by the State Committee for Standardization of the Republic of Belarus;
№ 74704 isssued by Federal Agency on Technical Regulation and Metrology (Russian Federation);
№ 545 issued by Interstate Aviation Committee (IAC) Airport and Equipment Certification Committee.
Specifications
Cloud-base height range, m
15 ÷ 7000
Permissible absolute error of cloud-base height within 15 ÷ 100 m range, m
± 10
Permissible relative error of cloud-base height:
- 100 ÷ 2000 m
- 2000 ÷ 7000 m

± 10 %
± 5 %
Measurement cycle duration, s, max
15
Optoelectronic unit power consumption, W, max
600
Power supply voltage (50 Hz), V
230 ± 23
Optoelectronic unit overall dimensions, mm, max
800 × 350 × 1300
Optoelectronic unit weight, kg, max
50
Operation environment:
- ambient temperature, °C
- relative air humidity at +25°C, %
- atmospheric pressure, kPa

-50 ... +50
100
66,0 ÷ 106,7