PELENG SF-01 Transmissometer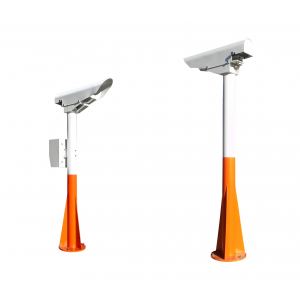 CAPABILITIES
Continuous measurement of extinction coefficient in horizontal layer of atmosphere, automatic calculation of MOR, data storage and display.
The measurements are performed during daytime and at night. The transmissometer can operate independently and as a part of weather station, including automatic airport weather stations.
COMPLETE SET
emitter;
receiver (1 or 2 units);
pole (2 or 3 units);
electronic unit;
interface unit (optional);
modem surge protection unit;
installation kit;
cable set;
SPTA set;
PC (optional).
CERTIFICATES
№ 12593 issued by the State Committee for Standardization of the Republic of Belarus;
№ 61576 issued by Federal Agency on Technical Regulation and Metrology (Russian Federation);
№ 209 issued by Interstate Aviation Committee (IAC) Airport and Equipment Certification Committee.
Specifications
Configuration
single or double
Baseline distances, m
25, 50, 100, 200
Range of atmospheric transmission factor measurement with 0.001 resolution
0,01 ÷ 0,98
Permissible absolute error of atmospheric transmission factor measurement
± 0,01
MOR range, m
16 ÷ 10000
MOR permissible relative error, %:
- 20 ÷ 250 m
- 250 ÷ 400 m
- 400 ÷ 1500 m
- 1500 ÷ 3000 m
- 3000 ÷ 6000 m
- 6000 : 10000 m

± 15
± 10
± 7
± 10
± 20
± 35
Sampling period, s
5
Output interface
RS-232, modem
Power supply voltage (50 Hz), V
230 ± 23
Power consumption, W, max
75
Overall dimensions, mm, max:
- emitter (mounted on pole)
- receiver (mounted on pole)

2640 × 1206 × 375
2640 × 1206 × 365
Weight, kg, max:
- emitter (mounted on pole)
- receiver (mounted on pole)

85,0
85,5
Operation environment for emitter, reciever, and electronic unit (mounted on poles):
- ambient temperature, °C
- relative air humidity at +25°C, %
- atmospheric pressure, kPa

-50 ...+50
100
60 ÷ 108
Operation environment for indicator board and interface unit:
- ambient temperature, °C
- relative air humidity at +25°C, %
- atmospheric pressure, kPa

+5 ...+40
80
84 ÷ 106,7