SF-14 Actinometric Station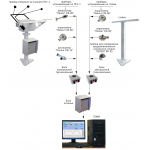 CAPABILITIES
Solar radiation measurement, continuous collection and processing of information received.
STATION DETERMINES
global solar radiation (computed value);
radiation balance (total);
long-wave radiation balance;
ground (underlying surface) albedo.
COMPLETE SET
PELENG SF-12 actinometer;
PELENG SF-06 pyranometer (3 units);
PELENG SF-08 net radiometer;
PELENG VK-05 sunshine duration sensor;
pole;
interface unit;
three-channel electronic unit (2 units);
junction box;
power supply unit;
PC workstation;
software;
installation kit.
CERTIFICATES
№ 9206 issued by the State Committee for Standardization of the Republic of Belarus;
№ 59235 isssued by Federal Agency on Technical Regulation and Metrology (Russian Federation).
Specifications
Specifications:
Ambient air temperature:
- range, kW/m2
- permissible relative error, %

0.04 ÷ 1.1
± 3
Global solar radiation:
- range, kW/m2
- permissible relative error, %

0,01 ÷ 1,6
± 10
Reflected solar radiation:
- range, kW/m2
- permissible relative error, %

0,01 ÷ 1,6
± 10
Diffuse solar radiation:
- range, kW/m2
- permissible relative error, %

0,01 ÷ 1,6
± 10
Radiation balance (direct solar radiation excluded):
- range, kW/m2
- permissible relative error, %

-0,7 ...+1,1
± 10
Overall dimensions, mm, max:
- power supply unit
- junction box

127 × 360 × 300
120 × 260 × 193
Weight, kg , max:
- power supply unit
- junction box

10,0
3,0
Connection scheme