PELENG SL-02 Background Luminance Sensor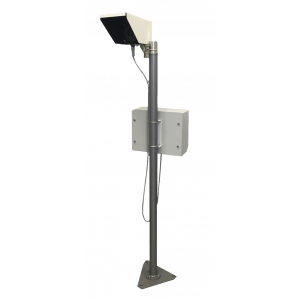 CAPABILITIES
Continuous measurement of background luminance along the runway to support correct RVR computation.
COMPLETE SET
optical unit;
power supply unit;
software;
SPTA set;
installation kit;
PC (optional).
CERTIFICATES
№ 9713 issued by the State Committee for Standardization of the Republic of Belarus;
№ 70980 isssued by Federal Agency on Technical Regulation and Metrology (Russian Federation).
Specifications
Luminance range, cd/m2
10 ÷ 20 000
Background luminance permissible relative error, %
± 15%
Sampling period, s, max
15
Power supply voltage (50 Hz), V
230 ± 23
Overall dimensions, mm, max:
- optical unit
- power supply unit
- pole

122 × 120 × 193
300 × 210 × 155
220 × 250 × 1400
Weight, kg, max:
- optical unit
- power supply unit
- pole

3
5
16
Operation environment:
- ambient temperature, °C
- relative air humidity at +25°C, %
- atmospheric pressure, kPa

-50...+50
100
66,0 ÷ 106,7