PELENG MC-4 Comparison Microscope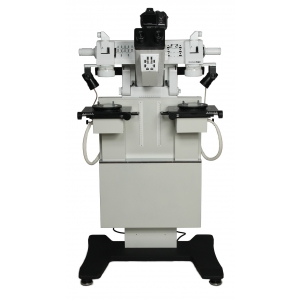 PURPOSE
Forensic pathology and criminalistic studies.
SOFTWARE
provides acquisition, processing, inspection, and storage of video images;
illuminator and stage movement can be performed from microscope panel and from connected PC workstation.
OPERATION MODES
split (side-by-side) and superimosed image comparison for objects on left and right microscope stages;
document inspection using inclined incident light, transmitted light, IR light, and incident UV light;
direct object studying through binocular head, or viewing the image of the object on PC workstation monitor
using integrated colour TV camera;
image capture using digital photo camera;
smooth travel of dividing line along whole FOV area in split-image mode;
synchronized magnification change and illumination control in both channels;
linear dimensions measurement for elements of a studied object;
independent control of illumination source and intensity for each channel.
Specifications
Magnification for direct-view optics, power, with max error of 5%
5; 10; 20; 40; 80
Field of view, mm, min
40; 20; 10; 6; 2,5
Integrated USB 2.0 colour TV camera, MP
5,0
Digital photo camera, MP
12,0
Focussing range, mm, min
15
Objective to object distance, mm
115 ± 10
Stage movement:
- in XY plane from central position, mm
- Z axis rotation, º
- along Z axis, mm
- motorized shift of both stages along Y axis (left-right from central position), mm

± 20
360
200 ± 10
50 ± 5
Eyepiece diopter adjustment range, dpt
+5...-5
Pupil distance adjustment range, mm
56+1,0...75-1,0
Sleeves and bullets diameter, mm
3 ÷ 25
Sleeves and bullets length, mm
4 ÷ 70
Distance and element measurement range, mm
0 ÷ 60
Scale division value, mm
0,05
Linear dimension measurement error, mm
0,05
Power supply voltage (50 Hz), V
230 ± 23
Power consumption, W, max
650
Motorized stage movement speed, mm/s , max
5
Eypiece height (from floor), mm
1160
Overall dimensions, mm
680×600×1210
Weight, кg
130
Functions
1.   Studying of bullets, sleeves etc. in superiposed and split-image view modes:

2.   Split-image and superimosed image comparison for objects on left and right microscope stages:

3.   Studying of documents::

4.   Study of biological objects:

5.   Document inspection using inclined incident light, transmitted light, IR light, and incident UV light: